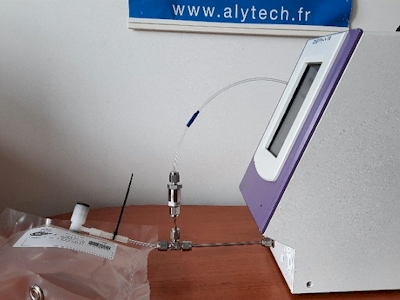 Project Description
How to properly use sampling bag with a GasMix ?
Dynamic gas mixers/diluters GasMix™ deliver the desired concentration directly in the output line, which is typically connected to an analyzer like GC, spectrometer, or a reactor. Where it is not possible or not convenient, the gas can be collected in a sampling bag and future injected into an analyzer for an analysis or a calibration purpose. Many types of sampling bags are available on the market, their specifications should match the application needs.
With feedback from our users, we compiled a good practice on how to make this procedure properly into a Technical Tip taking as an exemple a popular Tedlar® bag.  Download a complete document here.
Compliant with ISO 6145-7 "Gas analysis — Preparation of calibration gas mixtures using dynamic volumetric methods — Part 7: Thermal mass-flow controllers (MFC)" dynamic gas diluters allow a large quantity of a gas mixture to be prepared on a continuous basis.
Multicomponent mixtures can be prepared as readily as binary mixtures with little added uncertainty. This practical solution to make secondary gas standards or on-demand mixture is easy to put in place in an analytical laboratory, significantly reducing the stock of cylinders of calibration gases.