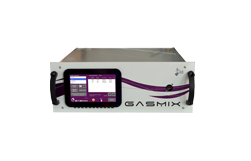 GMRACK – Enhanced functionalities of GasMix™… in a 19″ rack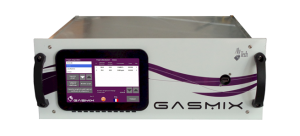 The GMRack is the industrial version of the most popular laboratory gas mixer/diluter Aiolos II.
Designed and manufactured by Alytech, this version of GasMix addresses to the applications outside of the laboratory .
Compatible with the standard 19' rack mount, this system accommodates up to 6 gas channels to make calibration gas mixtures directly at the production site or within the analyzer tower.
Using GasMix ™ GMRACK you benefit of :
19″ rack mounted industrial version of GasMix™
On-board computer and a touch screen for easier control on site
Up to 6 gas channels
Can be remotely driven by Ethernet communication
USB port on front panel to upload projects
Compliance with ISO 6145-7
OPERATION

APPLICATION

TECHNICAL SPECIFICATION

OPTIONS

DOWNLOAD

For easier use directly on site, the GMRack is equipped with on-board computer and a touch screen. Embedded GasMix™ software controls the mixer operation. It may drive an external injection valve and/or the Start command of an analyzer. The operator can do a single injection or run fully automated pre-programmed sequences for a linearity check or a multi-point calibration. A strong benefit of the GasMix™ is the drastic reduction of operator time.







GMRack is suitable for all types of instruments like gas chromatographs, microGC, gas analyzers, trace sulfur analyzer, FTIR, etc.

GMRack creates in situ controlled gas concentrations for analyzer validation, calibration or linearisation check.






Environmental – Calibration of analyzers for ambient air surveillance, in laboratories and on site


Manufacturing – Test bench for gas sensors quality control, LOD-LOQ and linearity checks


Biofuels – Calibration of biofuel characterization analyzers


Automotive Industry – Engine bench and Emission Control


Research – Generation of complex gas mixtures






Number of gas channels: 2 to 6

Inlet Gas Pressure: 3 bars nominal, max 8 bars

Outlet Pressure: atmospheric, higher on request

Connections: Swagelok 1/8′, other on request

Gas compatibility: pure gases, concentrated gas mixtures, most of aggressive and reactive gases (for specifics, contact us)




Performance characteristics




Mixing : mixing up to 6 channels simultaneously

Dilution ratio of the initial concentration: up to 1:10000

MFC operation range: 2 to 100% FS

Flow accuracy: ±1% of setpoint all over the scale

Repeatability: less than 0.1% of setpoint

Response time to the setpoint <5 sec




Operating Modes




Build-in computer with touch screen panel 5"

Software: Embedded software + standard GasMix™ PC software provided

On-site upload/download projects via USB port

Can be remotely controlled via Ethernet link

I/O relay or TTL communication with an external analyzer

Other communications options and customizations available




Other




Operation temperature: 10 – 50°C

Power supply: 90-260Vac, 1,5-4A, 50-60Hz

Dimensions : L x l x h: 48.3×34.5×18 cm (19×13.6×7 inches)

Weight: approx. 9 kg (depends on configuration)




A fully inert version

compatible with most aggressive gases and active compounds like sulfurs gases, NO, ammonia, VOC




Heated gas lines

Model is fitted with a heated tubings for specific applications




FReD

FReD is optional automated flow regulator to be placed downstream to the diluter. The output flow rate can be set and accurately controlled directly by GasMix™ software.




Customized versions are available, please contact us