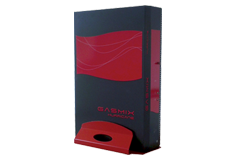 HURRICANE – Versatile tool to make really complex gas mixtures
Diluting – Blending up to 16 gases simultaneously !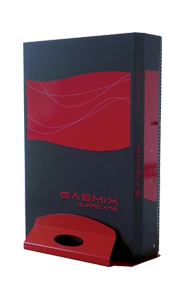 The most powerful in GasMix™ family, this gas mixer/diluter can automatically prepare and deliver complex gases to virtually all kinds of analytical instruments, reactors, or sensors.
Key benefits :
Unique on the market
Fully automated mixing system up to 16 gases simultaneously
Operation with versatile GasMix™ PC software
Ease to use even for very complex mixtures
Complies to ISO 6145-7
Calibration curves for each used gas
Evolutionary system with possibility to add gas channels, calibrations, various options available
OPERATION

APPLICATION

TECHNICAL SPECIFICATION

OPTION

DOWNLOAD

The principle is based on the dynamic mixture of 5 to 16 standard gases (customized systems for up to 20 gases are possible). No need for manual computations, the software does automatic calculation of dilution and span gas flows, based on desired concentration, even for very complex mixtures. Regular sequences may be saved and recalled at any time. The Hurricane can be remotely controlled and/or the start command of an analyzer. An audit trail function ensures a total traceability of the operations carried out.

The GasMix™ Hurricane provides an automated, cost effective way of on-site gas preparation and helps in the management of the following aspects :






Optimizing the cost and efficiency of gas cylinders


Reducing the number of necessary gas standards


Managing cylinder expiration dates


Reduction of Operator Bench Time


Increase productivity, safety and application flexibility






Application areas for the GasMix™ Hurricane include generation of complex synthetic gas mixtures for testing interferences, development and validation of chemo metrics models for FTIR, RAMAN and other spectrometers. It is also used in :






Manufacturing – test bench for gas sensors quality control, LOD-LOQ and linearity checks


Petrochemical – Oil & Gas in laboratories – Calibration of RGA analysers


Automotive Industry – Engine bench tests and emission Control


Specialty Gases : customized secondary standards


Research: Generation complex gas mixtures






Number of gas channels: from 5 to 16

Inlet Gas Pressure: 3 bars nominal, max 8 bars

Outlet Pressure: atmospheric, higher pressure possible on request

Gas compatibility: pure gases, concentrated gas mixtures, most of aggressive and reactive gases (for specifics, contact us)




Performance characteristics for Hurricane:




Mixing : mixing up to 20 channels simultaneously

Dilution ratio of the initial concentration: up to 1:10000

MFC operation range: 2 to 100% FS

Flow accuracy: ±1% of setpoint all over the scale

Repeatability: less than 0.1% of setpoint

Response time to the setpoint below 5 sec




Other:




Operation temperature: 10 – 50°C

Power supply: 90-260Vac, 1,5-4A, 50-60Hz

Dimensions : L x l x h (cm) : 66x45x17

Weight: approx. 25 kg (depends on configuration)




Required a PC with Windows 7 or higher, Ethernet port communication




A fully inert version

compatible with most aggressive gases and active compounds like sulfurs, H2S, ammonia, VOC

Heated tubings

Model is fitted with a heated tubings for specific applications

FReD

FReD is optional automated flow regulator for GasMix™ product line (except Zephyr). It is designed as external module to be placed downstream to the diluter. This optional used to regulate the outlet flow rate sent to the analyzer, sending the rest of the non-used gas to the vent. The output flow rate can be set and accurately controlled directly by GasMix™ software. Une marque Alytech.