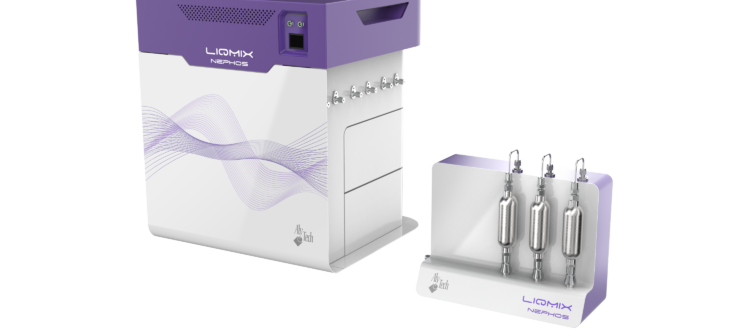 Nephos is the latest in the LiqMix™ range from Alytech. It allows the custom production of standard gases from pure liquids, diluted liquids or mixtures of liquids. The cascade dilution, offered as an option, allows very wide ranges of concentrations, ranging from % to ppb.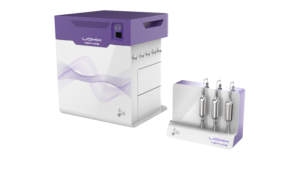 The instrument precisely, accurately and repeatably vaporizes up to two liquid phases into a gas stream, generating a custom gas standard in multiple concentrations. The production of the standard benefits from full traceability.
Your benefits when using Nephos :
Create a calibration gas on demand from one or upto four gases, and one or two liquids
A very wide range of concentrations from ppb to %
The heated lines, up to the point of delivery, avoid recondensation of the vaporized compounds
A modular construction that allows you to evolve according to your growing needs
A dedicated software performs all specific calculations and analyzer control
Creation, storage, and implementation of complex sequences of mixtures and/or dilutions
Robust design, easy to use and fully automatic operation saves significant operator time
Software:
The improved interfacing functionalities provided by the dedicated LiqMix software allow the generator to be synchronized with a third-party instrument, whether it is a GC, a spectrometer, gas analyzers, or any other external module. It is a simple and reliable way to carry out calibrations or to carry out a specific study.
User-defined automatic sequences can be saved and recalled at any time. An integrated audit trail function ensures total traceability of each operation.
FONCTIONNEMENT

APPLICATION

SPECIFICATION

OPTION

DOWNLOAD

The Nephos operating principle is based on proven mass flow controller (MFC, or RDM) technology. RDMs are factory calibrated according to proprietary and stringent NIST-traceable procedures. The liquid phase is introduced into a vaporization chamber at a precisely controlled rate by a Coriolis-type liquid flow meter. This type of flowmeter can handle all kinds of liquids, pure or in solution, without any dependence on its environmental conditions (temperature, pressure, density, conductivity or viscosity).

The software operates fully automatically, in sequence and can be synchronised with third party instruments such as a GC, preconcentrator, spectrometer, gas analyser, or any other instrument. The gas rods are heated to avoid any recondensation points and keep the whole assembly in a gaseous state until the point of delivery.




Nephos is THE solution to automatically and inexpensively prepare custom gas standards from reactive, unstable compounds or prepare complex mixtures. Nephos is a simple and efficient tool to perform multi-point calibrations, linearity and hysteresis checks, LOD/LOQ validations, with mixtures such as BTEX, or other volatile hydrocarbons, siloxanes, ethanol and phenol, or any other organic or aqueous compound. Nephos integrates also integrate CleaC.




Examples of applications:

Biogas: generation of siloxane standards (problem of silicone-containing contaminants)

Air regeneration systems: ethanol and phenol containing gas to test the efficiency of carbon filters

Humidity sensors: generation of humidity standards (sensor validation)

Toxic gas detectors: calibration of gas detectors and alarm level checks




Number of liquid channels: 1 or 2

Liquids: pure liquids or mixtures of liquids (e.g. water, organic solvents) without particles, traces of polymerisation or salt formation. For specific applications, please contact us.

Number of gas channels: up to 4

Gas compatibility: Pure gases, concentrated gas mixtures, most aggressive gases used in industry and research (contact us for specific gases)




Dilution factor with respect to the initial concentration: up to 108

Accuracy of output flow: less than 2% of measured flow

Heated line length of 1m as standard. Other lengths are possible

Dedicated Windows software provided

Requires a PC with Windows 10 or higher. Ethernet communication port.




Operating temperatures: 10 – 50°C

Power supply: 90-260Vac, 1.5-4A, 50-60Hz

Dimensions : L x W x H 50x47x58 cm

Weight: approx. 25 kg (varies with configuration)




An inert version

Version for aggressive gas and trace analysis – gas and liquid circuit materials: Kalrez, SS316, inert coating

Tank for liquids

Stainless steel tank for liquids, to be pressurised with an inert gas